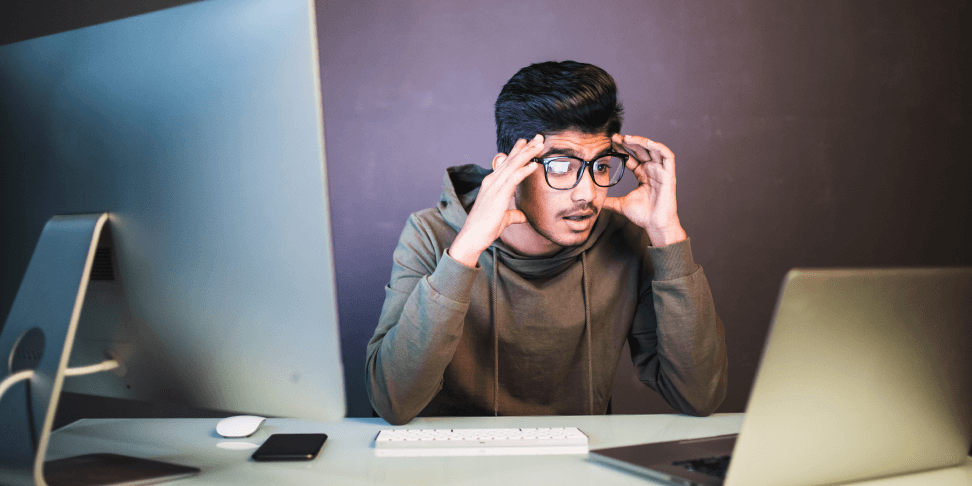 Author: Tomasz - JAVA/Node.js Curriculum Manager 17.09.2021
What programming language to start with and where to get started?
The IT sector is developing all the time, and the demand for programmers of various programming languages is constantly increasing. Currently, at every corner we encounter modern technological solutions that improve our daily lives. How to create them? In this article you will learn what steps to take and what to use when choosing and learning a programming language.
Frontend, backend... Or maybe fullstack?
What is your goal? Do you want to learn the language that is most often required in job offers or do you want to pursue your own hobbies? Or maybe both? Consider whether you are more interested in visual, visible effects and want to become a front-end developer? Or maybe you are interested in how an application looks like from the inside? Then a career as a backend developer might be a good choice for you. Ultimately you can develop in both directions by taking the path of a full-stack developer, but if you are starting from scratch it may not be a good idea
One language for more possibilities
Whether it's Java, C++, JavaScript, C#, Python, PHP or any other language - operators, conditional statements, arrays, loops, functions, variables or anything else, basics look and function the same everywhere. After learning the patterns we can easily learn other languages, libraries and frameworks. Following this path of learning at a later stage there will be no barriers when switching to other technologies, and with the already acquired knowledge, it will be easier to learn new programming languages based on the schemes already learned, which are repeated. If you are at the beginning of your programming road, you must have wondered many times where to start and what programming language to choose first, so in a short time and with little effort you can become a programmer and start a career in IT. The choice is not easy and there is no clear answer. To make it easier you are presented a very simplified division of the most popular programming languages to the fields in which they occur:
Web applications - PHP, Python, Java, Ruby, Javascript
Data Science - R, Python
Embedded - Python, C, C++, Java
Desktop applications depending on the system:

Windows - C#, Java, C++

Linux - Java, Python

MacOS - Swift

Mobile applications depending on the system:

Android - Java, Kotlin

iOS - Swift, Kotlin native

Games depending on the purpose:

PC - C, C++, C#, Unity

Browser - PHP, JavaScript, Java

The choice is not easy and there is no definite answer. Each of the listed programming languages has a field where there is a high demand for that particular technology.

Coding and debugging

There are many ways to learn, the best is almost always the documentation of the technology, but it can be too demanding at the beginning. It is worth expanding your knowledge with additional E-learning materials. You can read about what E-learning is and why you should use it in another post on our blog. When it comes to effective learning of programming, online courses are the most popular. It is also worth mentioning that platforms with interactive courses are more and more popular, where additionally to learning to code you can write the code yourself. A good example of such a platform is Codenga.com, in which we receive a set of tasks to be completed and the help of a training tutor, who will help in case of downtime - a very important moment helping in critical moments of doubt, when you do not know what is going on. Contact with a person who knows the topic will certainly accelerate further learning and understanding of the subject.

Further development

There are a wide variety of groups related to programming. Join communities like Facebook groups, sign up for newsletters and learning platforms, talk about the possibilities with a specialist - someone who works in the language and has experience. Learn about the capabilities of a particular technology and start practicing. They say you can't get water out of a stone... YOU CAN. Having already some fundamental knowledge you can create something from nothing, just see the need in the world around you. After implementing the basics, it is best to learn on your own projects. Try to find some tedious process that you do every day and optimize it. If you are working and you are missing some solution that would improve your work a lot then try to design it, it will give you full satisfaction and will surely bear fruit in some way in the future.

Someone wise said "Choose a job that you love, and you will never work a day in your life."

This quote applies perfectly to the topic of today's article. The longer it goes without working out the greater the satisfaction of solving the problem. Don't get discouraged when something doesn't come easy. Gain knowledge and take it yourself.