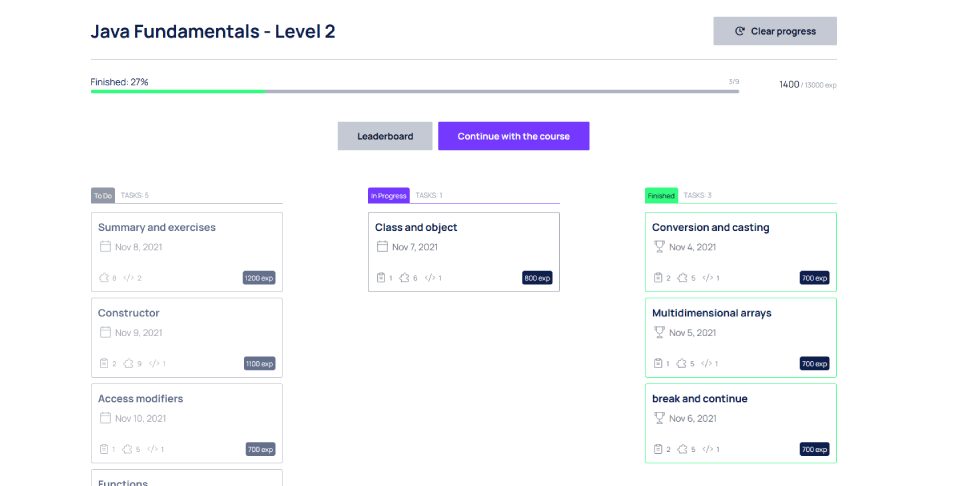 Author: Codenga 22.12.2021
Brand new Codenga platform
We have a Christmas present for you! It's a brand new, entirely improved Codenga platform. Log in to your account and check out what we have prepared.
What will you find on the new platform?
New course flow - Kanban
The old timetable has been replaced by a new view called Kanban. It is a board with tasks - the same as programmers work with every day.
In the first column, you will find a list of tasks To Do
In the last column, you will find a list of Completed tasks.
The middle column will automatically show the tasks that are currently In Progress.
Assignments are just course steps from the old schedule. Do you like this new view? Do you have any comments or ideas? Let us know: https://codenga.com/contact
Improved tasks
Comments and suggestions sent by course participants are a valuable resource for Codenga. Thanks to them, we introduced countless optimizations in the course content.
Improved code readability in the content of the tasks and presentations.
Optimization of exercises based on the completion of missing code fragments.
Redesigned LiveCode tasks with the ability to scale the editor window.
More interaction, better performance of the application, and presentations on small screens.
Optimization for mobile devices
We've put a lot of thought into making Codenga better suited for mobile devices. Navigating, completing tasks, writing code - you can do it all on your smartphone much easier than before. We also hope you'll feel an overall increase in productivity. It's also an essential part of Codenga's new platform.
It's just the beginning
The changes to the platform are just the beginning of what we would like to do for you. There are sure to be many more surprises coming soon. If you have any comments, suggestions, or ideas, don't hesitate to let us know right away: https://codenga.com/contact