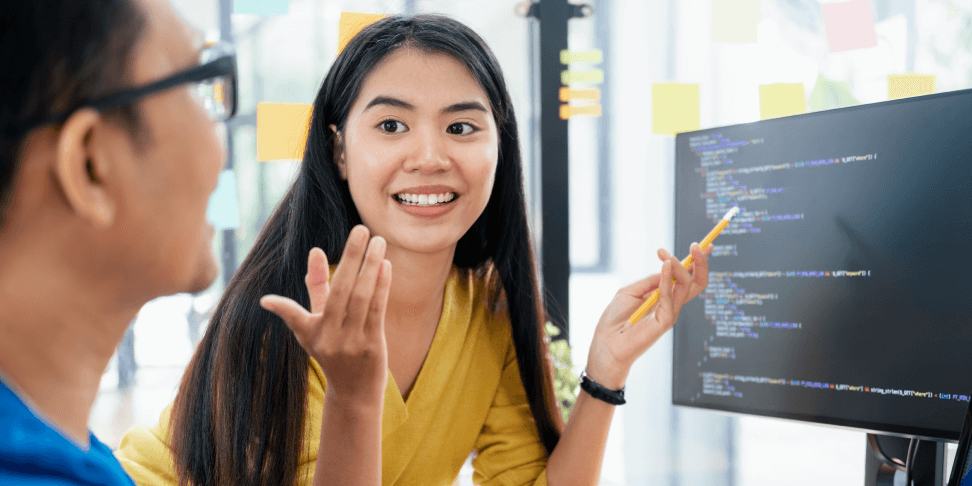 Author: Codenga 04.11.2021
Not sure where to start? Here are some of our most important articles
You have your valid reasons for wanting to start learning programming. Perhaps the career opportunities offered by the IT industry are important to you. Or maybe you are just interested in the subject purely as a hobby. Regardless of your motivation, we want to make your start a little easier. And that is why we have gathered in one place articles prepared just for people like you.
We hope these will put you on the right track and at least lighten up a little bit about the complexities involved in choosing the right technologies and programming languages when you start learning.
Where to start at the very beginning?
If this is your first step into the world of programming then the primary problem is choosing the right language. Take the advice from Marek, our Python Curriculum Manager. This language is a great choice to start with. Read the article and see why.
Do you want to create websites?
If you are more interested in creating websites instead of typical programming, we have another article for you. You'll find out what languages and technologies you need to start with. Web development is a fascinating, very practical skill. If you already have some basic skills and want to get some practice then take a web development workshop.
Various programming languages
There are a lot of programming languages. And this is definitely a problem for people who just want to start learning. See what different popular languages are used for and in what areas they are used. Sometimes it's a good idea to just follow the trends and learn what's currently popular. Especially if you are interested in programming in the context of professional development. One more thing: what happens if you start with the "wrong" language? It's not really as big a problem as it may seem.
Skills and tools
Programming is not just about different languages. It's also some universal skills that find applications in almost every area. Knowledge of key data structures is extremely important. Understanding how sorting algorithms work is also very useful. Programming is about tools too - if you are just starting it is definitely worth considering for example choosing the right code editor.
Databases
Another important domain is databases. The vast majority of applications work with data and somewhere has to store this data. There are a lot of different systems on the market, but until now one of the most popular is MySQL. See what MySQL is used for and in what areas it is used.
Author - Codenga